Ministry at Minnewashta Church
Ministry
Minnewashta Church is a faith-based community of believers with an emphasis on prayer, worship, missions, outreach, Bible teaching and preaching. It is our mission To Know God & To Make God Known.
Each follower of Jesus Christ has one or more spiritual gifts to be used in the body of Christ to serve the Lord.
Minnewashta Church History –
In 1901, several neighborhood women decided to start a Sunday school. With the success of the Sunday school, according to Minnewashta's historical documents, member Jean Hobart called on several local families who were interested in forming a church, and the faith community came together in 1907. The formation of the Ladies Aid Society followed at the end of 1908. Sometime between1909 and 1911, the Ladies Aid purchased a lot for $105 and plans for the original building were set in motion. After years of perseverance by its members, the Minnewashta Chapel was dedicated in 1916.
The church recently hired Grant Hill as its 24th pastor. Music and fellowship have long been important aspects of weekly services. Minnewashta Church has a welcoming culture. Members have been drawn together by their shared desire to reach out to others in need and to share their faith with the greater community.
While Protestant churches across the nation face decline in attendance and membership, the core values that have drawn people to Christianity for centuries will continue to do so, and remain at the heart of Minnewashta's mission.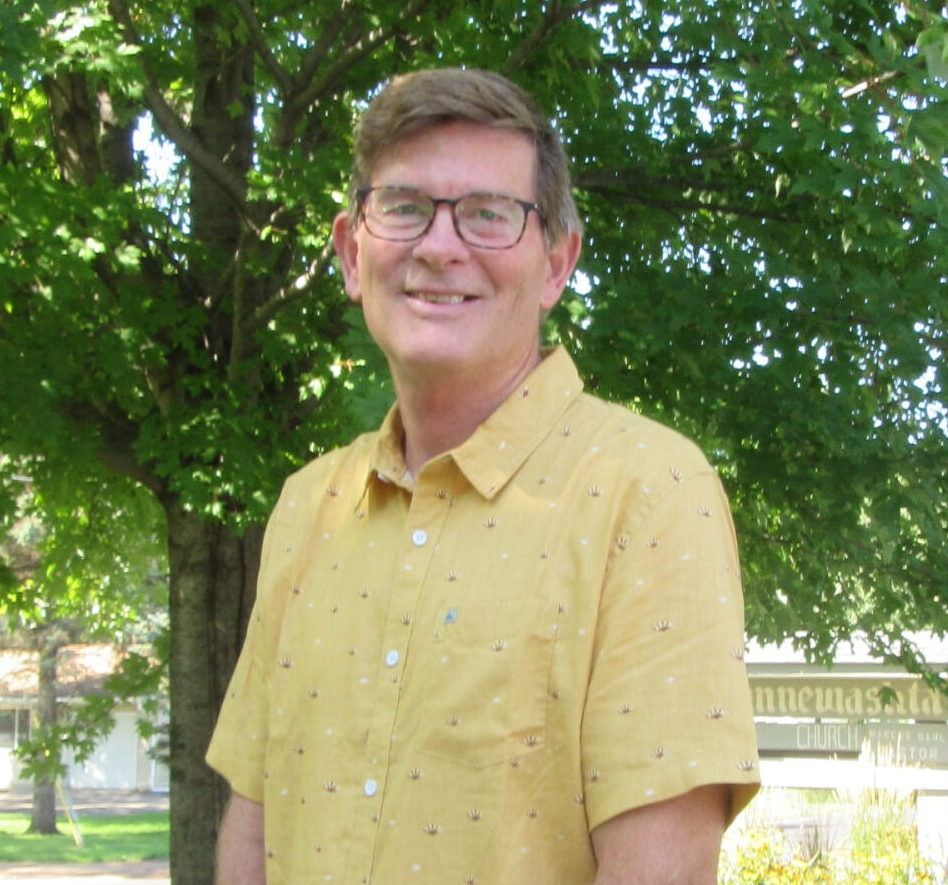 Brian's Testimony – 3/7/2018
Living as a faithful Believer in Jesus Christ from the age of 4, Brian Lee gives a powerful testimony.
Sheri's Testimony – 2/25/2018
Raised in the Jewish faith, Sheri gives her personal testimony of becoming a Christian.
Prayer Shawl Ministry:
 Romans 15: 30:  "I urge you, brothers, by our Lord Jesus Christ and by the love of the Spirit, to join me in my struggle by praying to God for me."
Minnewashta has an active Prayer Shawl Ministry. We have given 13 shawls since June of 2020. There are several knitters; including some friends outside of our church. How can you help?  We can always use more knitters – if you can knit, share your talent. Take a pattern from the display in the Fellowship Hall. Many members help by giving dollars to buy supplies or donating yarn for knitters to use. Help us to get our shawls to the people who most need them by giving their name to the church secretary.
Before giving a Prayer Shawl we ask our pastor to bless the shawl. When we give the shawl it will have a message inside the package on how the person can have eternal life. We all have sinned and fallen short of the glory of God. We need someone to pay the price for our sins. All we have to do is accept Jesus as our Lord and Savior, confess our sins and believe that when he died on the cross the blood that he shed washes away our sins. We will have Eternal Life in heaven. The message ends with a prayer of faith that says: "Dear Lord, thank You for sending Your Son Jesus Christ to pay the penalty for my sins. I am sorry for all the wrong that I have done. Please forgive me, and teach me how to live for You. I accept Your gift of salvation and eternal life. In Jesus' name I pray, Amen."
We also include a handmade card by one of our members with a personal message in it.
Please join our ministry by making shawls, donating dollars or yarn.  Everyone else, be on the lookout for someone who needs a Prayer Shawl and ask to have a shawl blessed and given out.  We are in this together!
The following testimonies let us know how important this ministry is for our congregation, families & friends:
When our longtime member, Elaine was in Hospice, we brought her a Prayer Shawl.  She just loved it and was so happy knowing her church was praying for her.
A friend in Naples, FL found out she had breast cancer. She was devastated and asked her church to pray for her. They gave her a Prayer Shawl and every time she went for her chemo or radiation therapy, she took her Prayer Shawl with her. It reminded her that her church was praying for her. She has recovered but to this day she will not give up her Prayer Shawl as it has such comforting memories.
2nd Offering Missions of the Month:
Each month of the year, Minnewashta Church supports a different "Mission of the Month" – The First Sunday of each month, the 2nd Offering will go to the Minnewashta Benevolence Fund. For the other missions we support, we have included a link to their website or facebook page to find out more about them. They are as follows:
During the Lenten Season, each Wednesday, "Soup Suppers" are served at 6 PM in our Fellowship Hall. A weekly sermon follows at 6:45 pm in the Sanctuary. An offering is taken with proceeds going to a special mission determined by the Diaconate Board.
Weekly Service
Visit Us or watch online
Sundays 10AM
During the Lenten Season:
Each Wednesday during Lent, "Soup Suppers" are served at 6 PM in our Fellowship Hall. A weekly sermon follows at 6:45 pm in the Sanctuary. An offering is taken with proceeds going to a special mission determined by the Diaconate Board.