Members Say at Minnewashta Church
Karen Bosshart is so grateful to have Minnewashta Church as my church family. As a Christian, I want to "Know God and Make God Known", as our motto states. Bible studies, Monday prayer meetings, & Choir gives me joy & opportunity to grow. Thanks to all who make up my Minnewashta Church family.
Deb Krogman feels that Minnewashta is "One of the BEST Churches I have EVER been to. Thanks to Elaine Fisk!! My faith family. You have helped and prayed for me non stop. I love each and everyone of my brothers and sisters. Thank you so much. I can never repay you all for the prayers for my family, friends and of course myself. I am forever grateful".
Former Church President, Colleen Moore ~ "You'll not be disappointed in the message. Truly this is a comfortable place to worship. Great pastor and welcoming people".
Dave & Jill, long-time members say that "People today entering Minnewashta Church, as our family did in 1970, experience the same warmth, comfort and friendliness. It's a church where together we pray for our concerns, worship and learn more about God and His plans for our lives."
Susan has been a member for over 20 years. During that time she has been involved in all areas of the church. She has served on church boards, taught Sunday school and sings in the choir. But Sue's favorite activity has "…always been serving in the kitchen with all the wonderful ladies. Some of the best fellowship at Minnewashta Church happens in the kitchen. I have learned a great deal in the kitchen about love, friendship and serving our Lord".
Carol recalls the first day she attended Minnewashta Church in early January of 1981… "It happened to be the day the hostages were released from their long ordeal in Iran. Yellow ribbons were everywhere to welcome them home. I, too, that cold day in January, felt that I had also come home…to the warmth of the Minnewashta Church Family."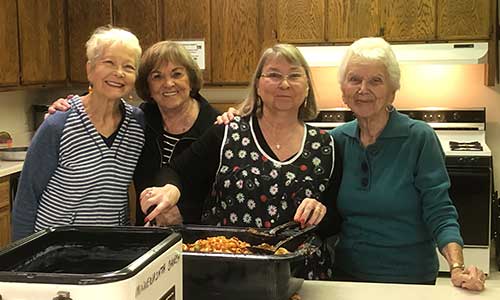 Do you have a memory to share? Tell us about it!
Weekly Service
Visit Us or watch online
Sundays 10AM
During the Lenten Season:
Each Wednesday during Lent, "Soup Suppers" are served at 6 PM in our Fellowship Hall. A weekly sermon follows at 6:45 pm in the Sanctuary. An offering is taken with proceeds going to a special mission determined by the Diaconate Board.